Healthcare
With the development of information technology, introduction of various information systems into medical institutions is becoming more and more popular. These medical care systems are connected with each other to achieve efficient diagnoses and accounting business for medical affairs. Today, the voice of cutting medical care costs becomes louder and louder. Therefore, in addition to the aforementioned collaboration within internal systems of the facilities, the lifelong medical record that can be identified in different places, special medical examination enforced in 1999 (medical examination in prevention of obesity) and other cross-facility system collaboration are becoming more and more essential.
Technologic Arts will provide safe and reliable support for medical information collaboration.
Inter-facility Collaboration and Cross-facility Collaboration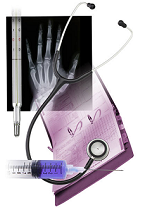 In previous years, inter-facility collaboration between medical information systems was always limited to a certain connection range, and the adjustment of connection frequency and method was always conducted by the suppliers of medical systems. However, when the cross-facility exchange of medical records, letters of recommendation, prescriptions and other medical information is needed, the connection targets will be varied, making the previous treatment method too costly and not practical. To solve this problem, we should adopt standard technologies. With the help of standard technologies, we can limit the graded connection treatment to a minimum frequency.
Another issue is to "ensure security." In the past, collaboration was always conducted within inter-facility network like the hospital network, and there was no need of transmission encryption. However, in cross-facility collaboration, security protection is a very important issue.
Connection Method
Data Format
Communication
Protocol
Security
Demand
Inter-facility Collaboration
Respective ongoing treatment
CSV, fixed-length
TCP/IP etc.
None
Cross-facility Collaboration
Must adopt the standard
XML etc.
SOAP on HTTP etc.
Needed
Adoption of Standard Technologies
In cross-facility medical information exchange field, part of CDA (treatment protocol structure) of the HL7 Ver3 method and ISO EHR Communication (13606) are excellent standard Our Company conducts system development with these standard technologies earlier than other companies, thus reserving plenty of knowledge and skills.
Ensuring of Security and Reliability
We can ensure high security based on guidelines related to medical information security management. In addition, our Company has participated in EDI standardization activities of ensuring high reliability like ebXML, etc., realizing medical information exchanges which are equipped with these technologies.
Adoption of UML Modeling
Based on UML modeling, we can visualize the medical information exchange programs and data. At the same time, during the multi connecting terminal and collaboration, the adoption of UML modeling can not only reduce the costs for design and negotiation, but also control the lowest cost through ensuring a uniform connection form. In recent years, various standard bodies in the medical field also fully adopt UML in their pattern making.
Our company always participates in standardization activities / research activities of JAHIS (Japanese Association of Healthcare Information System), Ministry of Health, Labor, and Welfare, etc. We adopt UML for the development of hospital business process models, data models & treatment models of Electronic Health Record System. Some results have been printed and published.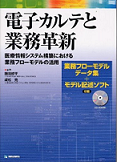 Electronic health records and business innovation
~Adoption of business process models in medical systems building~
【Written By】 Shuhei Iida, Ryo Narimatsu
【Published By】 Shinohara Publishing Corporation
Actual Results Presentation
Development of Data Flow System for Examination Results
The system developed by our Company can turn scattered examination results in different medical facilities into a unified format and enclose them with the medical class standard data exchange format, which complies with HL7 Ver3 information and CDA Release2. This system is based on HL7 ITS (assembling technical specifications). It adopts ebXML and Web services to achieve safe and reliable data exchange.